It's officially summer!
I am a HUGE list person and love having a visual so the kiddo can see what his options are. So, to make sure we make the most of every season, I make a bucket list! It's usually just a handwritten list on a random notepad I grab from my desk, but I think having a cute printable makes everything more fun.
I've created three bucket lists filled with 40 ideas we can do in Bell County this summer! One of our biggest goals this year is to explore more and support more local businesses, so that's the focus of our first printable. The second page is a list of fun things to do at home for the days when you just want to hang out at home. Nate is a homebody through and through, so we'll definitely be checking things off of this list left and right. I also added a blank list so you and the kids can make your own (a perfect afternoon activity). Even if you don't get them all checked off by the end of the summer, you'll still have a plan and avoid missing your "must-do" items!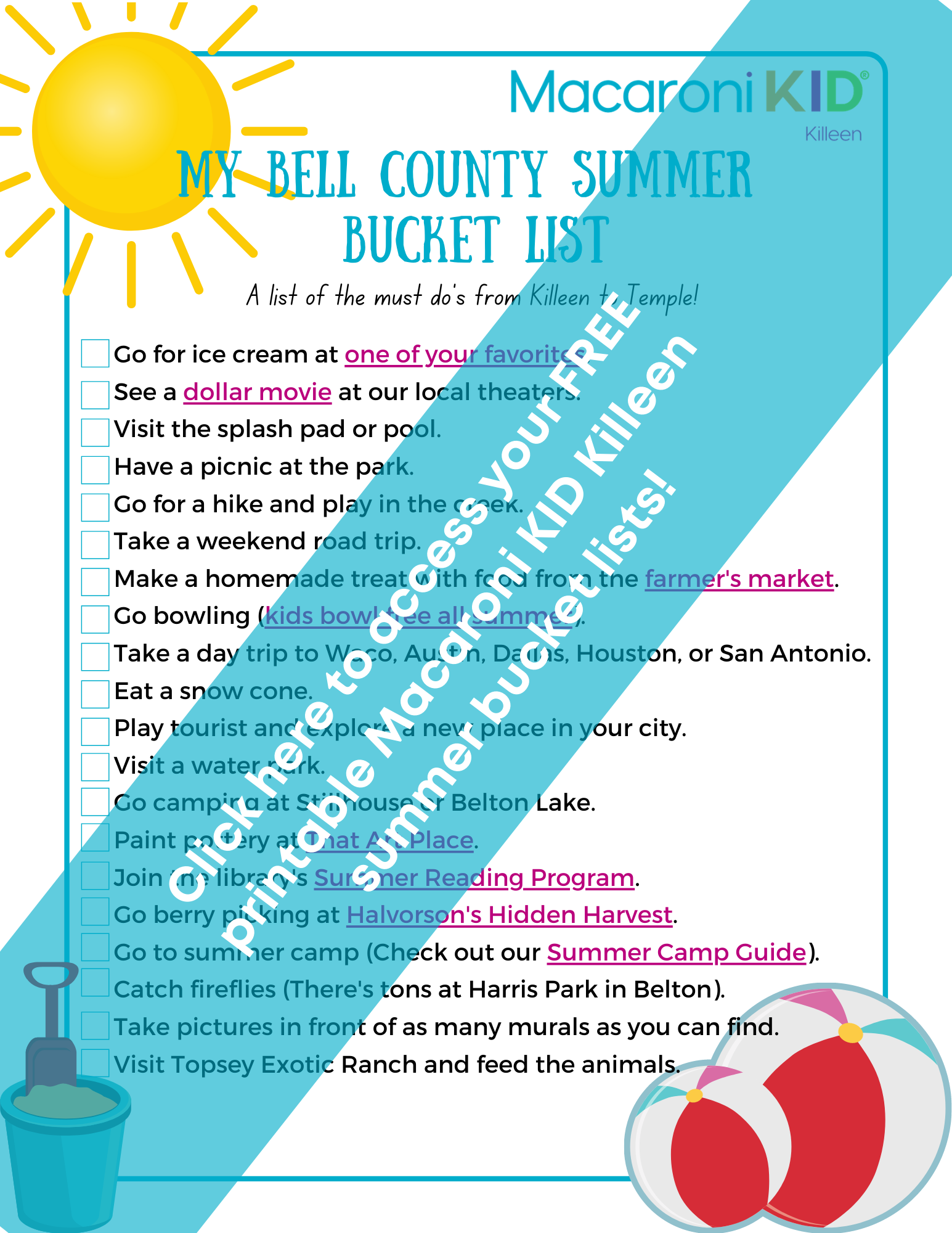 CLICK HERE TO GET YOUR FREE PRINTABLE SUMMER BUCKET LIST!
Here are some local ideas for things to do in Winnipeg this summer! Scroll down and click highlighted text for more info on each item on the list. There is a free printable option to stick on your fridge too!
Go for ice cream at one of your favorites.
See a dollar movie at our local theaters.
Visit the splash pad or pool.
Have a picnic at the park.
Go for a hike and play in the creek.
Take a weekend road trip.
Make a homemade treat with food from the farmer's market.
Go bowling (kids bowl free all summer).
Take a day trip to Waco, Austin, Dallas, Houston, or San Antonio.
Eat a snow cone.
Play tourist and explore a new place in your city.
Visit a water park. Summer Fun Water Park in Belton and Lion's Junction Family Water Park in Temple are OPEN!
Go camping at Stillhouse or Belton Lake.
Paint pottery at That Art Place.
Join the library's Summer Reading Program.
Go berry picking at Halvorson's Hidden Harvest.
Go to summer camp (Check out our Summer Camp Guide).
Catch fireflies (There's tons at Harris Park in Belton).
Take pictures in front of as many murals as you can find.
Visit Topsey Exotic Ranch and feed the animals.
Make homemade ice cream.
Have a family movie night.
Have a water balloon or water gun fight.
Have a picnic in the backyard.
Get creative with chalk.
Make cookies for a neighbor.
Write a letter to a friend or family member and send it.
Take a virtual field trip.
Do a DIY home project.
Tie dye shirts.
Make an obstacle course and see who's the fastest.
Stay up late and look at the stars.
Go camping in the backyard or living room.
Learn a new skill (juggling, magic tricks, etc)
Put on a puppet show.
Sing karaoke.
Play hide and seek.
Have a family game night.
Build a blanket fort and tell stories by flashlight.
Make a time capsule to open in the future.
What else would you add to your bucket list? Hop over to Facebook or Instagram to tell us!
---
Looking for more fun things to do with your family in Killeen, Belton, and Temple?
Get a free Macaroni KID Killeen events calendar sent to your inbox every week!