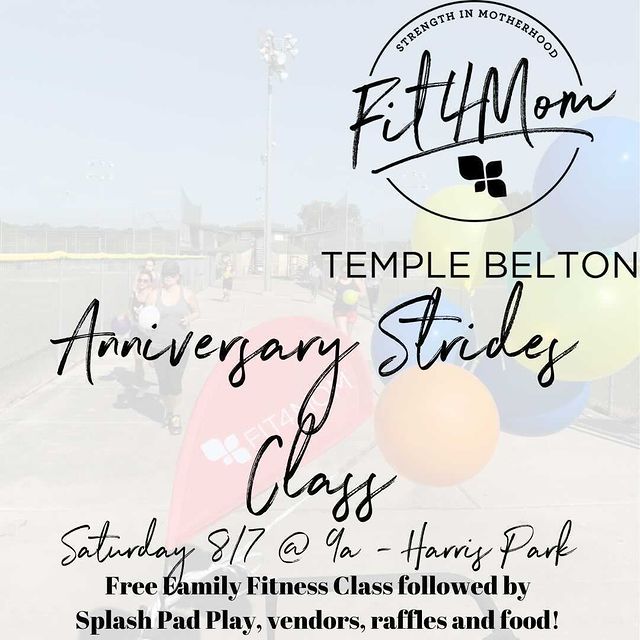 FIT4MOM Temple Belton Birthday Bash
Saturday August 7 9AM-1PM
Harris Park
312 N Alexander St
Belton, TX 76513
Who doesn't love a PARTY?!
Join us to celebrate our second 2nd Birthday!
Confused?
FIT4MOM Temple Belton was founded in March of 2015 but was repurchased in August of 2019. Due to the pandemic, we were unable to celebrate our "new" birthday... so we're doing it BIG this year!
We will kick off the anniversary celebration at 9am with a 60min combination Stroller Fitness class for ANY Central Texas parent. All fitness levels are welcome! Moms, Dads, Grandparents, Aunts/Uncles, Friends, Neighbors... we want to celebrate with YOU!
We will then be renting out a Splash Pad Pavilion with free food, raffles, Kona Ice, crafts provided by Macaroni KID Killeen, balloons and MORE.
This event is open to any Mom (and dad!) in the Central Texas area. Simply click this link to enroll in the FREE class and plan to stay to PLAY + PARTY!
>> https://fit4mom-temple.pike13.com/e/149282758 <<
Please direct any questions to katelynthompson@fit4mom.com
We cannot WAIT to celebrate!!!